Work from home setup improvements
Posted On May 23, 2020
Like most people, I've been working from home lately.  I'm extremely grateful to have a job these days and my project's computer lab is still available to me part-time.  There are just too many people working from the relatively small space so our team has organized an informal shift work arrangement. Thankfully, I'm working on new product development so the lack of hardware assets and test equipment hasn't been a major issue.
Normally, I work in a computer lab where the equipment and software are out of my control.  Now that I'm working a considerable about of my hours from home, I'm discovering a lot about places where I can improve my work from home setup.  What was acceptable for working an hour a night from the couch just doesn't scale to an eight to ten hour day. I realized inside the first week that I'd have to fix my setup. My original home work space had been shared with my wife's sewing, arts, and crafts space.  Having spent the last few years grinding out new products with long days focused solely on work projects, my hobby/computer space has been fully engulfed by fabric, quilting supplies,  and paint.  "It's temporary." is my new mantra as I've taken over the dining room table. My collection of two laptops and soon to arrive target hardware is growing but for the moment this is the only space I have.
My first setup fix was getting a laptop stand for my workhorse Linux/Windows machine, as well as, an external keyboard and mouse. My monster machine got an equally large laptop stand with built-in cooling fans.  Once elevated to eye level, I switched to an old Dell external keyboard and mouse.  Much better but the low quality keyboard bothered me.
I'd never really cared about my keyboard before but now I was looking.  Some of my past coworkers have had a passion for their keyboards.  I suppose for a software engineer your keyboard is the tool of your trade, and good tools help produce a quality product, if not better, at least faster.  So down the keyboard rabbit hole I went.  [WARNING: Do not repeat this exercise. It will lead to buying multiple keyboards and spending many hours watching YouTube video keyboard reviews.]  I decided to try a mechanical keyboard and forever more I'll feel the difference.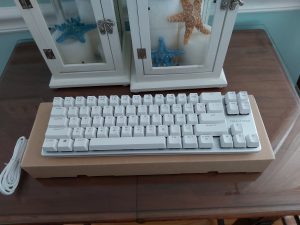 My first mechanical keyboard is the $40 Magicforce 65% keyboard.  I only bought the MF68 because the keyboard I wanted was back-ordered many many weeks, and no delivery estimates were even available.  So the MF68 is my daily driver and I really like it.  The online reviews may point to cheap keycaps and uncertain long-term reliability but I'm pretty happy.  I may feel differently when I can compare it to a better keyboard but right now I'm super happy with the MF68.
I'll post an update on the MagicForce 68 after I use it a bit more.  My first couple weeks have been a joy and the mechanical feel and sounds are somehow hypnotic.  Until then, CLACK CLACK CLACK