Mi Band – My $15 fitness tracker gets the job done
Posted On February 7, 2016
If you're looking for a simple fitness tracker to count your daily steps, provide simple sleep tracking, work with the Google Fit app, and run for over a month on a single charge, look no further than the Xiaomi Mi Band.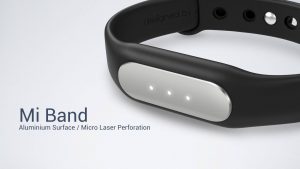 I paid only $15 with free shipping from GearBest and only just missed a sale for $11. In my eyes, that makes the Mi Band too inexpensive to pass up. I've started 2016 with the goal of walking 10000 steps every day. I won't always reach that goal but I will be able to track my progress and that does wonders for motivating me to drive up my step count. I always forgot my pedometer but the Mi Band stays on my wrist, even in the shower, so I can't forget it.
This ultra barebones wristband gets the job done. Program the Mi Band with your daily goal and the Mi Band provides three leds that indicate your progress in thirds toward your selected goal. Raise your wrist and the Mi Band displays your current status. One led blinking means your working on the first third of your goal. One solid led and one blinking says you've finished the irst fthird of your goal and you've working on the second third. Your goal has been completed once all three leds are solid. Need an accurate count? Just use your smartphone and read the step count over Bluetooth LE. Want to track your steps over time? Google Fit will automatically download and save your daily results.
So if you're not trying a fitness tracker because of the cost, don't wait. If it ends up in your top drawer with all those other gadgets, you won't have wasted much money. On the other hand, you might use it. Who knows, maybe someday I'll "upgrade" to a better fitness tracker. Oddly, I don't even know what that means. For me, this works. If it broke, don't fix it.