Ainste Multiple Wallet Review
Posted On January 19, 2014
I've been using an Ainste Multiple Wallet for the past two weeks and I have to say it's a excellent minimalist front pocket wallet. Surprisingly, I haven't had to compromise much to fit my needs into such a small package but I did remove a ton of useless material from my old wallet during the switch, mainly receipts and a seldom used stack of business cards. On a normal day, I'm carrying eight cards and a six bills in an amazingly small package; the center bill holder squeezing the cash so tightly that it almost disappears.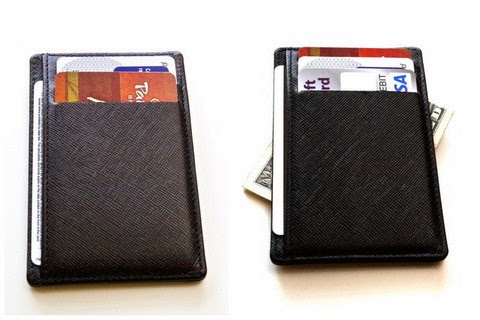 I'm a guy who likes to use cash so I have been supplementing the wallet's cash holder with a money clip. This arrangement has worked extremely well and is far more practical than it sounds. How often do you reach for your credit cards and your cash? I keep the bulk (literally) of my cash in one front pocket and my Multiple in the other with my credit cards and backup cash. This is a huge departure from the massive lump that was my back pocket without the moving that weight to the front.
If the Multiple has a downside, it's the tightness of the card pockets. These pockets start so tight that the wallet is rendered nearly unusable and it's not until you spend a couple days working to break in the leather that you can extract a card without a struggle … or pliers! I wish the folks at Ainste would fix this but maybe this in required to keep the pockets tight for the life of the wallet. Think of it like breaking in a baseball glove and you'll be very happy.
So thumbs up to the people at Ainste for a wonderfully minimalist wallet that remains practical and is a joy to own. I recommend this wallet highly but I wouldn't give this wallet as a gift until Ainste addresses the overly tight card pockets, or unless the person your giving the gift to understands that some work is required before the wallet is truly useful.